DirectPhone presents a new innovative service, by which you can stop using the expensive roaming and always stay connected. Facebook Messenger Bot is a modern technology, which helps to contact with family and friends anywhere in the world.
Simple and useful service
Long or short distances trips always costs some money, so tourists try to save as much money as possible. But roaming can make budget gap, that's why resourceful travelers have found some ways to stay in touch with no overpay to cellular operators.
DirectPhone shows up among all companies as it provides high-quality and affordable services. It has such advantages as:
user-friendly interface;
permanent and high-quality connection;
instant connection with the subscriber;
After registering you get $3 as a gift on your account, which is more than enough for adjustment. It's possible to make a payment per minute or per month. The second option is beneficial especially for those, who make a lot of calls, being on a trip.
How to use the service
The main advantage of Bot – is a simple configuration, so you won't need a lot of time to understand it. Facebook Messenger Bot always provides the following services:
an order of call forwarding number;
obtaining the login and password to access the site;
transfer of balance information and refill from your card;
Click2call - one-click phone calll
It's easy to use the service. After registering you get a number which should be dialed to call you, for example, from Europe to USA. A direct connection will be expensive. But DirectPhone provides a special number, which is an intermediary between two callers. This special number has a name – the Access Number.
It can be obtained by joining the Bot and registration, then the system will bind the account to your Facebook page. Then you need to specify your cell phone number and the destination number with the country code. After that, the service sends a message with the prices and the Access Number for your local call. So you only need to connect and use it at your leisure without worrying about the cost of calls.
The whole process only takes a few minutes and you'll be in touch with your relatives in any country you are.
Using Click2call you can call on any Destination Number by ordering a callback to your Outgoing Number. You will receive an incoming call and after answering on this call you will automatically start the call to the Destination Number.
You don't need an Internet connection to use the DirectPhone service.
It is easy to find bot! To do this, enter DirectPhone in the Facebook search box and select the page with a unique service logo. Then send a personal message to the page and you will automatically begin a dialogue with our bot!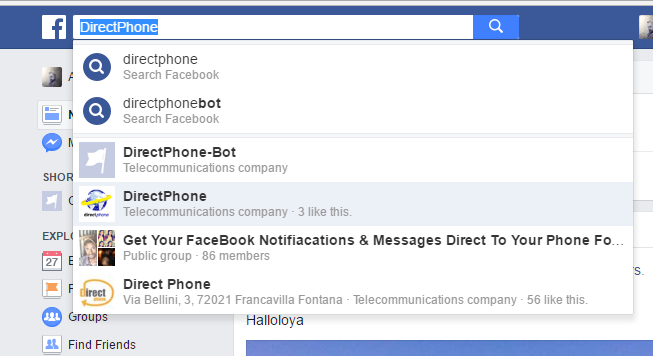 To facilitate the search of our bot in the Messenger app, you can scan the Barcode that is shown below.
To get more information about Directphone Messenger-Bot follow our official page on Facebook